Derrick May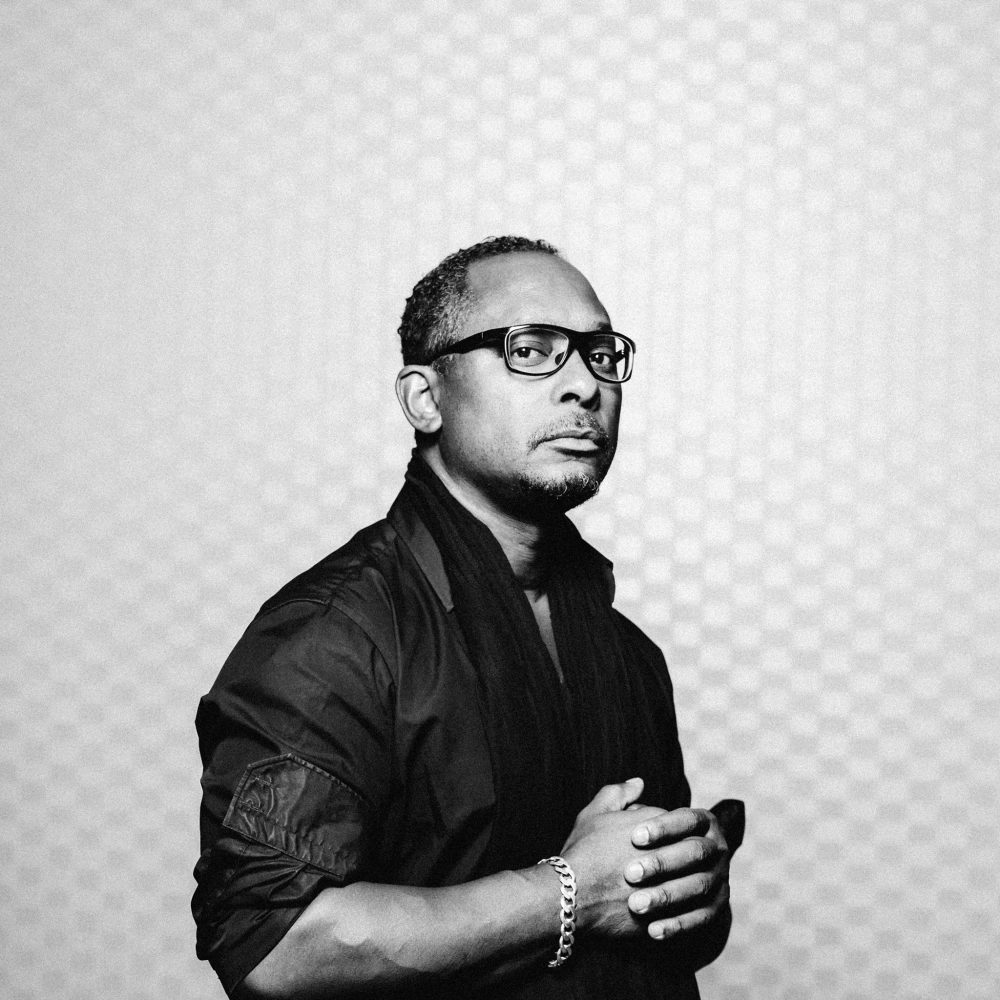 Biography by Matthew Collin

Derrick May is one of the greatest living figures in electronic music, and one of the few in any genre who has helped to originate a style that has changed the sound and form of popular music across the world: techno.
Born in Detroit on April 6, 1963, May met the other founding fathers of techno, Juan Atkins and Kevin Saunderson, while he was a teenager studying at Belleville High School. 
Inspired by European electronic sounds and black American dance music, and invigorated by the idiosyncratic broadcasts of Detroit radio presenter The Electriyfing Mojo, May, Atkins and Saunderson - who would become known as the 'Belleville Three' - began to DJ together at parties and clubs under the name Deep Space Soundworks in the early eighties.
Atkins established himself as an electro innovator through his Kraftwerk-tinged recordings with Cybotron; May, his young protégé, was observing intently and learning about the possibilities of electronic sound.
The Belleville Three and their Detroit comrade Eddie Fowlkes then built on these foundations to develop a style that was both futuristic and emotional, physical and cerebral.
"It's important to say that all of us, together, had this driving force to create what we did. But none of us knew this would be ground-breaking or revolutionary. We had no idea what we did would change the world," May recalls.
May's early recordings as Rhythim is Rhythim and Mayday exemplified this vision, and remain iconic three decades later - 'Nude Photo' (with Thomas Barnett), 'The Dance', 'It Is What It Is', 'Illusion' (as R-Tyme), and best-loved of all, 1987's 'Strings of Life', a piece of music so wild and unconventional and yet so exquisite and compelling that it has become an all-time classic dancefloor anthem.
He set up his Transmat label in 1986 to release his own music, but also used it to nurture the next generation of Detroit techno producers, with releases by Silent Phase (Stacey Pullen), Psyche (Carl Craig), Dark Comedy (Kenny Larkin) and Suburban Knight (James Pennington), amongst others. Transmat has continued to be an outlet for adventurous electronic music ever since.
May also played a role in the development of what would become house music, when in 1983, he sold Frankie Knuckles a Roland TR-909 drum machine which would be used to create some of the early Chicago house tracks.
May described his music as 'high-tech soul', but just before the first major compilation showcase of Detroit's electronic dance producers on Virgin Records in 1988, the Belleville Three decided to label their sound 'techno'. Since then, its influence has spread more widely than they ever could have imagined, and can now be heard in everything from the most esoteric of avant-garde electronica to the most commercial of pop hits.
As his music helped fire the European rave explosion in the late eighties, May became an in-demand remixer, producing a series of remarkable reimaginings of other artists' tracks, including what are arguably two of the greatest remixes of that era, his enchanting reworkings of De-Lite's 'Good Times' and Sueno Latino's 'Sueno Latino'.
But he was already becoming disillusioned with the business of music, after a plan to record an album with Atkins and Saunderson under the name Intelex for Trevor Horn's ZTT label in the early nineties failed to work out. "I felt like I was never going to record again, I thought I never could, although I never stopped buying equipment and keeping my eyes and ears open," he recalls.
His classic work was compiled on the 'Innovator' album in 1996, and he also collaborated with Steve Hillage on System 7's album 'Mysterious Traveller', released in 2002 - but for many years after that, there would be no new Derrick May material.
Instead he dedicated himself to DJing around the world, becoming renowned across continents for his vigorously animated approach to playing music, his ability to connect the futuristic with the funky, and to fashion a dramatic, soul-stirring narrative out of rhythm and melody. "For me it has always been about playing the best music possible with a force that gets my point across about what's important in music. I want to leave people with a lasting impression - that's why I do it," he explains.
In a new departure in 2014, May began to collaborate with the Macedonian Symphony Orchestra for a series of euphorically-received and critically-acclaimed concerts featuring meticulously scored 80-piece orchestral interpretations of his classic works.
"I always thought that every song I ever made could be performed by an orchestra, but I never thought it could happen; my ambition was always to see my music used in a motion picture or to do a score for a film because it has this cinematic, monumental feel to it," he says.
"When I first heard it performed by the orchestra, it was very emotional; it felt like a moment of accomplishment, an endorsement of everything I've done over the years."
In 2016, he finally returned to the studio for the first time in a couple of decades, to record collaborative tracks with Luxembourg-born classical pianist Francesco Tristano, using a panoply of vintage and contemporary synthesizers to conjure elemental soundscapes from a series of freeform improvisations. The resulting album, 'Surface Tension' by Francesco Tristano feat. Derrick May, is released on Transmat.
"Doing the Philharmonic gave me the motivation and drive to work with Francesco," says May with characteristic enthusiasm. "Francesco is a true talent, and working with him helped me rediscover this creative spontaneity."
Charismatic, eloquent, and as relentlessly energetic as ever, May is not only a pivotal figure in electronic music's history, but a dynamic force in its present and a heartfelt advocate for its creative future.