Crisix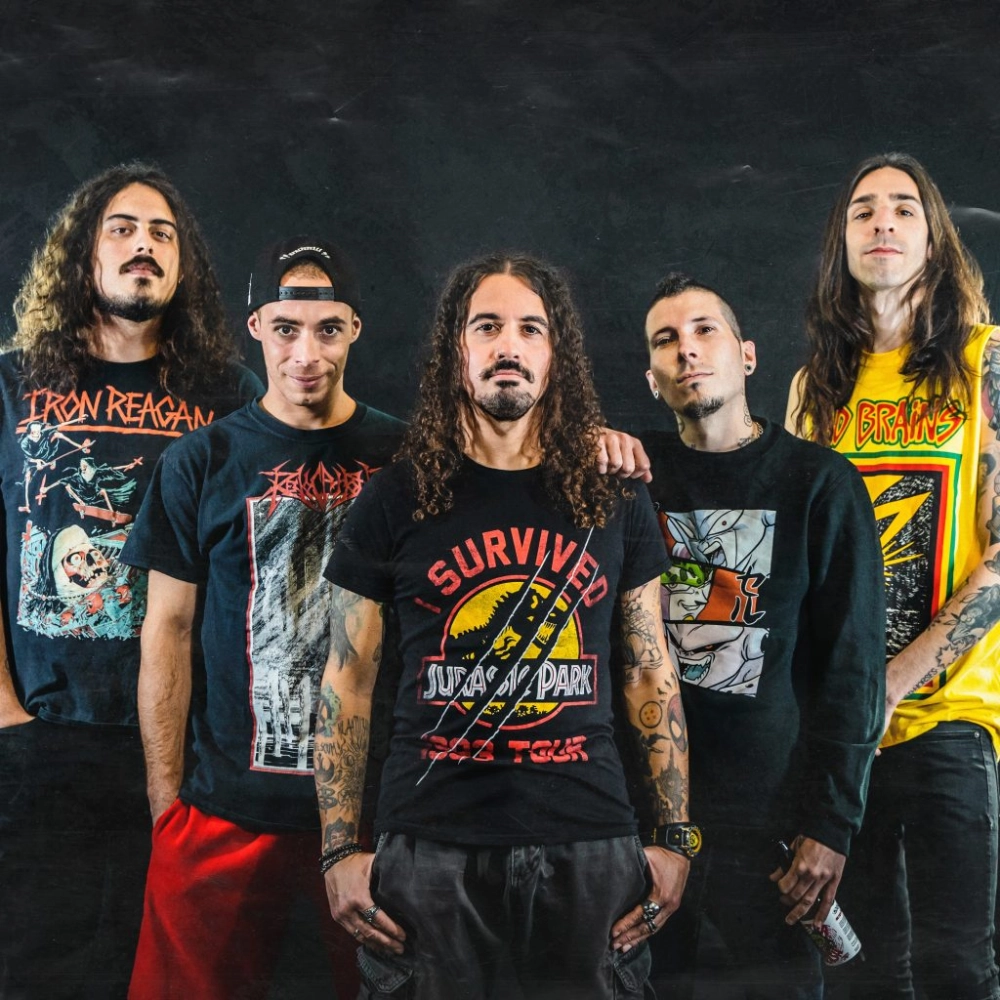 Spain's Crisix are a vintage thrash metal battalion based in Barcelona. Their sound is inspired by American genre progenitors such as Megadeth and Overkill as well as their home country's legendary Angelus Apatrida and the earliest stage of Aggression. Universally acclaimed by the press, their live show is among the most unrelenting and energetic in all of Europe.
Founded in 2008 as Crysys, the band was formed by Javi Carrión and Marc Torras (both ex-Shadon). They enlisted colleagues they respected from local bands, including guitarists Marc Busqué (ex-Helltears) and Albert Requena (ex-Face). While they originally hired a lead singer, he couldn't make their first gig. Instead they turned to another local, bassist Julián Baz from Bourbon Society, to fill in for the gig. It went so well, they hired him permanently. Crisix were well rehearsed and gigged hard, winning that year's Martohell Metal Rumble. With the prize money, they cut their first single, "Dead by the Fistful of Violence." The track was chosen for the annual Spain Kills compilation. They recorded two more songs at the end of the year -- "Internal Pollution" and "Mummified by Society" -- and issued their first demo, Demonsthrashion. Based on its strength, they were chosen to compete in Wacken Open Air's A Metal Battle: Spain 2009. Winning the semifinal round, they were allowed to compete in the 19-band final in Germany later in the year. They won the juried vote, and their prize was an album contract with Wacken, global distribution, and sponsorship from major musical equipment brands including Washburn and Eden, as well as their own European tour to support the recording.
Crysys began working on pre-production with Polish producer Waldemar Sorychta in Germany, but Wacken cut their budget a few weeks later. They returned home (without Sorychta) to work in Barcelona's Axtudio on their own. They sent the finished album to Germany's Stage One Studio for mixing and mastering. During the waiting period, Sony hit them with a cease-and-desist letter insisting their band name conflicted with the trademarked title of the video game Crysis that Sony distributed; the group relented and changed their name to Crisix.
Entitled The Menace, their debut was finally issued in 2012 by Spain's Kaiowas Records. The band toured hard in support of the record and took a short break before beginning work in November on their sophomore outing at Moontower Studios in Barcelona with producer/engineer Javi Félez (Graveyard) and mixing and mastering by Erik Rutan (Hate Eternal, Morbid Angel) at Mana Recordings. The set's first single, "Bring 'Em to the Pit," was issued in April 2013 as a promotional video. On the last day of the month, April 30, the group released Rise...Then Rest, which hit number 63 on Spain's Top 100 albums list. In May, Crisix started a national tour. In October, founding bassist Torras announced that he was leaving for personal reasons having nothing to do with his bandmates. After a lengthy auditioning process, Crisix chose Dani Ramis to fill his spot. They played numerous shows from clubs to festival stages all over Europe in order to break their new bassist in.
Crisix ended their contract with Kaiowas, and then sought another deal. They eventually signed with France's Listenable Records in late 2014, and began recording again at Axtudio in early 2015 with engineer Òscar Ax. Jens Bogren mastered the album, which was released as From Blue to Black. It was preceded by a lyric video for the song "Strange" and an official one for "G.M.M. (Great Metal Motherfucker)." They toured all the major festivals in Europe and received unanimous critical praise for the outing.
Crisix wasted no time after completing their tour. They reentered Axtudio and sent the album's tracks to Bogren once more for mastering. Titled Against the Odds, the LP was issued in Europe in March 2018; the songs drew on a wide range of subject matter, including Ridley Scott's Aliens ("Xenomorph Blood"), novelist George R.R. Martin's fantasy worlds ("The North Remembers"), and Akira Toriyama's Dragon Ball character ("Prince of Saiyans"), all rendered in an intense brew of thrash metal and hardcore. The following year saw the release of Crisix Sessions, Vol. 1: American Thrash, which featured cover versions of songs by thrash icons like Vio-Lence, Nuclear Assault, Exodus, and Anthrax. ~ Thom Jurek, Rovi